Algoma Public Health
Public Health Champion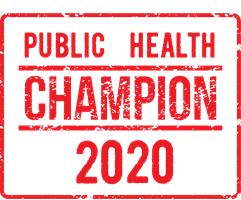 Local public health in action

The COVID-19 pandemic has challenged individuals, businesses, and communities across Algoma. We have worked together during these times of great change and uncertainty in order to adhere to and promote public health guidance. It is by working together that we will continue to stay healthy and safe, and together we will get through this.

This year our Public Health Champion awards will honour Algoma residents who have demonstrated exemplary kindness, compassion, and community spirit while helping others overcome the challenges of COVID-19. A Public Health Champion may be an individual or group of individuals, an organization, employer, or employee.

Many Algoma residents and organizations have courageously helped others access essentials such as groceries, volunteered their time to help priority populations remain socially connected, helped facilitate a positive re-opening of workplaces, and helped others access and understand credible public health information. 

We have expanded the categories and will be awarding 4 Public Health Champions for 2020.
---
Health Protection Champion

The Health Protection Champion is someone who used their time and energy toward health protection and prevention, and helped fellow community members stay healthy and safe.
e.g. helped others with groceries and other essentials during the pandemic so that returning travelers or people who were ill or vulnerable could stay safely and comfortably at home.
---
Mental Health & Wellness Champion

The Mental Health & Wellness Champion is someone who combatted isolation or stigma and worked to ensure that community members in all walks of life remained socially connected and cared for.


e.g. focused on the emotional and social wellbeing of long-term care home residents, people who live alone, people with substance use disorder, people accessing shelters, or prioritized counselling for essential frontline workers.
---
Re-Open Safely Champion

The Re-Open Safely Champion is someone who went above and beyond provincial requirements to ensure that a local business or workplace was safe for re-opening.
e.g. transformed their workplace by providing training, resources, accommodating and protective policies, or through a supportive attitude and other creative actions, so that staff and customers feel safe at all times.
---
Amplifier Champion

The Amplifier Champion is someone who helped spread credible information and amplified preventive messages and actions in their local community to help increase awareness and motivate people to follow public health recommendations.
e.g. promoted key messages like the need to stay home early during the pandemic, or the importance of physical distancing, avoiding close contact, and wearing masks when the province entered stages of reopening
---
The call for nomination ends on November 20, 2020 November 27, 2020 at 12 Noon.

Award Selection Nominations are evaluated by members of the Algoma Public Health Board of Health and Algoma Public Health staff.

How do I nominate?

Choose 1 of 3 options:


Complete the nomination online


Download a fillable PDF. Complete it and submit it electronically online


Download a nomination sheet (PDF) and mail it to:

Algoma Public Health
c/o Public Health Champion Award
294 Willow Avenue
Sault Ste. Marie, ON P6B 0A9
To be eligible for nomination, an individual or organization must reside in the Algoma district.
Current members of the Board of Health for Algoma Public Health and current Algoma Public Health staff are not eligible.