Algoma Public Health
Welcome Home, Stay Home
While you were travelling, you may have been exposed to COVID-19. Staying home means that if you are sick, you do not spread the virus in the community.
Do not use public transit
Do not go out into public places
Do not go get groceries or run errands
Go straight home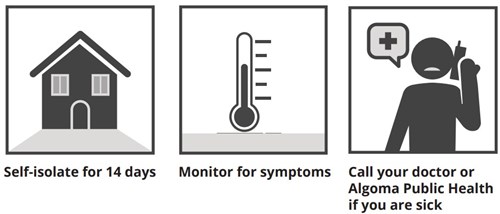 Feeling Sick? Get Home Quick!
If you have cold or flu-like symptoms, STAY HOME. Protect your community.
Physical Distancing
Protect yourself and the community
Leave home only if you absolutely have to and make sure to practice physical distancing.
Take these steps to avoid the spread of COVID-19
Avoid close contact with those outside your immediate family
Wash your hands often, and for 20 seconds
Don't touch your face (eyes, nose or mouth)