Algoma Public Health
Safe Return to School
This is an unprecedented time and the decision to send your children to school is a difficult one given the many variables and the uncertainty about the future. Each family should assess their own individual situation. Key factors in this decision include:  
your child's health condition
close contacts of your child, or other family members
your family's ability to find alternate childcare
resources to assist in providing home schooling
developmental needs that would require in-class learning with a trained professional.  
There is no right answer for everyone; this decision is one that must be made by each individual family.  
Algoma Public Health is working with local school boards to implement provincial standards and guidance to support the reopening of schools.  
Algoma Public Health's Role  
Help prevent illness and outbreaks in schools by supporting school boards' reopening plans and providing public health guidance on how to best implement provincial standards and recommendations. 
Support knowledge exchange among school staff, parents, children, and other members of the school community, by sharing concerns, liaising with local, regional, and provincial partners, and providing credible information and evidence-based guidance.
Provide infection prevention and control expertise and guidance to schools for both in-school and transportation settings.
Respond rapidly to manage COVID-19 cases and outbreaks and conduct tracing, in close partnership and communication with the school community
Conduct public health surveillance by monitoring indicators such as school absenteeism
Provide ongoing support with a team of Public Health Nurses who can assist in responding to school specific inquiries
Provide age-appropriate resources on COVID-19, such as educational posters, social media preventative messaging
School Board's Role   
Develop and implement reopening plans following guidelines and recommendations from the Ministry of Health, Ministry of Education and Algoma Public Health (APH).
Communicate with the school community about COVID-19 prevention measures and how cases and outbreaks will be handled, in collaboration with APH
Support APH, and other stakeholders as appropriate, with the investigation of cases, contacts, and outbreaks.
Ensure accurate records of staff and students' attendance, as well up-to-date contact information for staff and students that can be accessed in a timely manner for investigations and communications.
Facilitate training of school staff with respect to outbreak prevention and control measures and the use of personal protective equipment (PPE). 
Find out what will happen if there's a COVID-19 outbreak at a school.  
Schools and school boards report when a school is closed to the Ministry of Education. Data is current as of 2:00 p.m. the previous day. Find out about coronavirus (COVID-19) cases in Ontario schools and what happens if an outbreak is confirmed at your school. Data is published weekdays at 10:30 a.m. 
All students must self-screen every day before attending school using our screening tool. This may be done independently by the child or with the help of a caregiver daily before attending school. If a student has any symptom of COVID-19, they must stay home from school and should seek testing and appropriate medical attention. The parent should notify the school of the child's absence and should call their local assessment centre to arrange prompt COVID-19 testing. 
If the child or staff member is not tested they must be home for 14 days.
If they are tested and the result is negative, they can return to school once they are 24 hrs symptom free.
If they are tested and the result is positive, the child must remain in isolation for 14 days from symptom onset and APH will conduct follow-up with school cohort and close contacts with further instructions for testing/isolation/monitoring. 

Other family members in the household should monitor themselves for symptoms and other symptomatic family members should also call their local assessment centre for COVID-19 testing. 
Medical notes or proof of negative tests are not required for return to school, to avoid unnecessary healthcare visits. For more information visit our Frequently Asked Questions. 
Let's break it down further... 
Check out our decision tree to learn more about what exactly to do if a student or staff is sick both at home and while at school. 
Here's a checklist for parents and guardians to utilize before schools starts: 
Have your child stay at home when they are sick, even when symptoms are mild. Staying home helps prevent spreading to others.
Reinforce that personal belongings and food are not to be shared with students and staff.
Encourage  'no touch' greetings with friends and teachers while at school. 
Teach proper cough and sneeze etiquette
Educate your child to not touching your face. Germs and easily spread from our hands to our mask or face.
Send them with their own water bottle from home to stay hydrated throughout the day.
Reinforce the importance of physical distancing
Make sure your child's immunizations are all up to date. 
If we all take precautions at home and in the community, we have fewer opportunities for the virus to be present in our schools. Here are some important things we need to do to reduce the transmission and take care of our health:  
Hand Hygiene & Masking 
Medical masks will be mandatory for all staff in a school setting. Furthermore, cotton or reusable cloth masks (i.e. face coverings) will be required for students in Grades 4 to 12. For students in Kindergarten to Grade 3, the use of masks will be optional, and will be entirely at the discretion of parents. Exceptions to this policy — for both staff and students — will be permitted for individuals for whom using a mask conflicts with a pre-existing condition, such as asthma. When students are outside, such as during recess, the use of masks will not be required so long as physical distancing can be maintained. 
Learn more about hand hygiene and non-medical face masks in schools by visiting our Question & Answer section.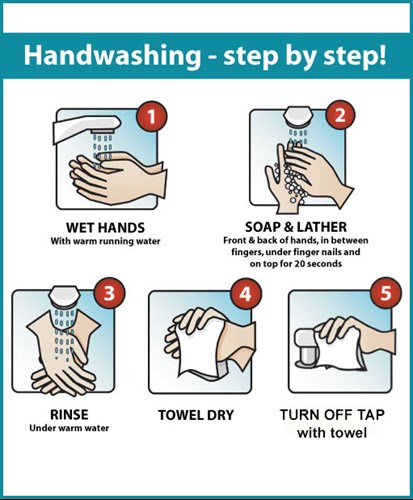 Cohorting 
The principle of cohorting is used to limit the number of interactions among students and staff, as well as facilitate an effective and efficient rapid-response contact tracing protocol. Students in elementary school will remain in a single cohort during the day, which is easily facilitated by the homeroom nature of instruction. In secondary school, cohorts will be preserved by boards employing timetabling strategies to cohort students, such as through a 'quadmester' model.
At any given time, the size of a student's cohort will be limited to approximately 50 in elementary and 100 direct or indirect contacts in secondary schools, which for many students allows for significantly-reduced congregate exposure, and facilitates contact tracing.  
Physical Distancing  
Physical distancing is a key strategy that can be used for limiting the transmission of COVID-19, especially in environments where it cannot be maintained. Physical distancing measures are being supplemented with other public health measures, such as self-screening, cohorting, hand hygiene, enhanced cleaning and masking.  
Please refer to your child's school board's reopening plan for physical distancing considerations at your school.  
Learn more about physical distancing in schools by visiting our Frequently Asked Questions.
Algoma Public Health's (APH) goal is to prevent further transmission of COVID-19 and to keep children and school staff safe. If someone tests positive for COVID-19 in a school, APH will work in collaboration with the school to reduce the risk of COVID-19 by implementing public health measures. 
Learn more about management of a confirmed diagnosis of COVID-19 in the school community  
Schools and school boards report when a school is closed to the Ministry of Education. Data is current as of 2:00 p.m. the previous day. Find out about coronavirus (COVID-19) cases in Ontario schools and what happens if an outbreak is confirmed at your school. Data is published weekdays at 10:30 a.m. 
My child is scared to go back to school. How can I help them feel at ease?


Starting school or starting a new school year can be stressful at the best of times, let alone during a global pandemic. Have an open conversation about what it is that's worrying them, encourage them to ask questions, and reassure them that they are safe. Listen to your child and let them know you are there when they need you.


Let your child know that it is normal to have feelings of stress or anxiety and that it's okay to express their feelings and talk about them.


Children may feel nervous or reluctant to return to school, especially if they have been learning at home for months. You could go through some of the changes they may expect at school, such as needing to wear face coverings. Children may also find it difficult being physically distanced from friends and educators while at school – you could encourage them to think about other ways to bond and stay connected.


Reassure children about safety measures in place to keep students and educators healthy and remind children that they can also help prevent germs spreading by washing their hands with soap and coughing or sneezing into their upper sleeve.


Remind children about the positives – that they will be able to see their friends and educators (if they are physically returning to the classroom) and continue learning new things.


Routines can help maintain a child's sense of security. Create before and after school routines with your child such as preparing things to pack for school in the morning (e.g., lunch bag, reusable water bottle, face covering) and things to do when you return home (e.g., washing hands).
My child's school is recommending the wearing of face coverings which is making my child feel more nervous. What should I say to them?
Approach this conversation with understanding, saying that you know they are feeling anxious about COVID-19, but that it's healthy to talk about our worries and emotions. Children may also get upset or frustrated if they are finding it hard to wear face coverings, especially when running or playing. You can reassure your children that lots of adults are working hard to keep your family safe, but share that it's important we all follow the recommended measures to take care of more vulnerable members of our community.
How can I encourage my child to follow precautions (e.g., frequent hand washing, physical distancing) at school without alarming them?
One of the best ways to keep children safe from COVID-19 and other infectious diseases is to simply encourage regular hand washing. It doesn't need to be a scary conversation. Sing along with their favourite song or do a dance together to make learning fun. Make sure to teach them about how even though germs are invisible, they could still be there. When children understand why they need to wash their hands, they're likely to continue doing so.


You can also show children how to cough or a sneeze into their upper sleeve, and ask them to tell you if they start to feel like they have a fever, cough or are having difficulty breathing.


Remember to stay positive and praise your child. Meaningful praise will help promote your child's self-confidence and motivation.
I'm concerned about my child's mental health – who can I reach out to?


Children's mental health services are available through:


Sports and Extracurricular Activities
Will extracurricular activities and sports be happening this year?
Schools can offer clubs and organized sports if physical distancing is possible and equipment and spaces are cleaned and disinfected between each use. Schools are encouraged to hold sports and extracurricular activities outside as much as possible. For activities taking place indoors, students in grades 4 to 12 need to wear face coverings.
Will my child have field trips with their class this year?
To align with physical distancing, schools should not plan field trips and activities needing group transportation at this time.

Will there be school assemblies this year?

School assemblies or other large gatherings (e.g., concerts or dances) should be avoided. Virtual options should be offered instead of in person gatherings.
Does my child need to wear a face covering at school?
Will my child have to physically distance while at school?
What happens if someone in my child's class tests positive for COVID-19?
How can I get my child ready to wear a face covering?
What do I do if another child in my child's classroom isn't wearing a face covering?
Should I have my child tested for COVID-19 before they go back to school?
What happens if my child shows symptoms of COVID-19 at school?
When should students wash or sanitize their hands?
What happens when there is an outbreak in a school?
Should teachers and school staff be tested for COVID-19 before returning to work in the schools?
What will my child do with their face covering when they are not wearing it, for example during lunch and recess?
Does my child need to have a negative COVID-19 test result or a doctor's note in order to return to school after recovering from COVID-19?
Do school staff need to have a negative COVID-19 test result or a doctor's note in order to return to school after recovering from COVID-19?
If someone in my child's school tests positive for COVID-19 do I need to get my child tested?
What is considered an outbreak in a school?
How should my child greet their friends, classmates and teachers?
Preventing COVID-19: Tips for Children Attending School
You were tested for COVID-19: What you should know 
Huron Superior Catholic District School Board
Conseil scolaire public du Grand Nord de l'Ontario
Conseil scolaire catholique du Nouvel-Ontario
Email: healthyworkplaces@algomapublichealth.com
Phone: 705-759-5404 or 1-866-892-0172 ext. 5404