Algoma Public Health
Meet Our Champions
Introducing 2021's Public Health Champions...
General


About: Awarded to an Algoma resident or organization who has stepped up to keep our communities safe and healthy throughout 2021, and demonstrated exemplary kindness, compassion, and community spirit while helping others overcome the challenges related to COVID-19.           
Congratulations! PUC Services Inc.
Learn More
When the Algoma Vaccination Support Council was created, PUC Services Inc. got involved from the very beginning. PUC Services Inc. offered financial support to the council, and a PUC employee became the transportation committee's chair.


When the COVID-19 vaccine clinics at GFL first started, PUC was one of the first business in the community to step up and buy lunches for every volunteer working the clinics at the GFL Memorial Gardens.  PUC paid for the first two weekends of meals.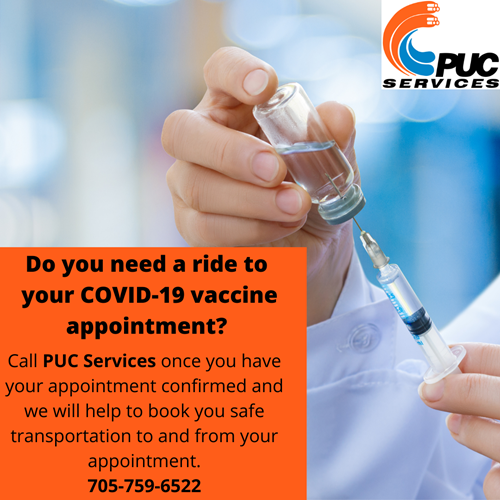 Shortly after the clinics started in April, management at PUC learned that transportation was a barrier to COVID-19 vaccination for some. Many citizens who wanted to get vaccinated had no way of getting to their appointments. Since April, PUC has been organizing and paying for taxi rides for anyone who needs to get to and from their vaccination appointment for a first, second, or third dose booster. In total, PUC has coordinated and paid for more than 130 rides.

In November, PUC also helped deliver groceries to those who were self-isolating with more than two dozen staff volunteering to pick up and deliver groceries to anyone who needed them. 
PUC was also a strong advocate for vaccine uptake amongst their employees by promoting available clinics. Employees were emailed clinic dates along with reinforced messaging on the importance of getting vaccinated. Human Resources even did so much as to book appointments for employees (and their family members) who could not log onto the website when the booking portal opened.


To further instill vaccine confidence PUC had a reoccurring all-staff meeting with an infectious disease specialist from APH every month. Employees were allowed to ask questions about the virus, vaccines or anything else that was on their mind as it related to COVID-19. This helped ease any concerns they may have had regarding the vaccine.
Throughout the pandemic PUC has lead by example. From donations, to rides, to promoting vaccine confidence in the workplace. They have been a true testimony to what it means to a Public Health Champion. 
Congratulations! Lisa Vezeau-Allen
Learn More
We honour Lisa in her work with Grocers 4 Good (G4G),
G4G is a community-centered charity that was started in order to address two key gaps: one being the lack of paid employment opportunities for those with disabilities and barriers, and the second being the lack of food access in the downtown area for those on a fixed income. Using the model of a grocer store, G4G is a program that gives job skill training, paid employment or volunteer work to those who face barriers, or who are chronically underemployed. The grocery store is currently located at 147 Gore Street.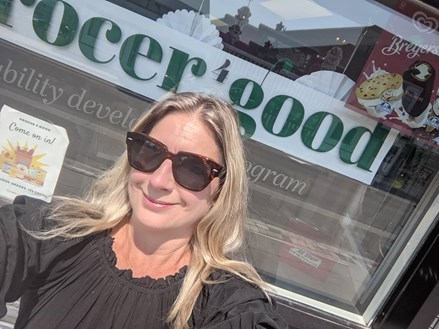 Lisa and her vision has been impacting the young adults with Autism and intellectual disabilities that may otherwise not had an opportunity to gain experience to obtain viable skills to become employable. Her work with G4G has resulted in partnerships with other businesses to make food available to many struggling citizens, helping feed many over the holidays. In the stores new location there will be a kitchen. Here they will not only assist staff but folks in the neighborhood to develop skills to prepare nutritious meals. With a pay 'what you can' philosophy no one leaves the store without the food they need. 

About: Awarded to an Algoma resident under 30 years of age who has stepped to keep our communities safe and healthy throughout 2021, and demonstrated exemplary kindness, compassion, and community spirit while helping others overcome the challenges related to COVID-19
Congratulations! Beau Neveau
Learn More
Beau has worked tirelessly to assist Batchewana First Nation Health Centre staff  and the community in providing assistance in all things related to COVID-19.

From booking and confirming who is eligible, to registration and setting up vaccine clinics, Beau has been there. Once 2nd doses, boosters and pediatric clinics became available he had no problem assisting with this change, thus providing a smooth and effective transition.  Batchewana First Nation has three (3) communities and two (2) of them require careful planning with thoughts around barriers like transportation, weather (winter) and other really important details that need to be kept in mind for a smooth operation. 

There were administrative details that Beau has developed to ensure for clear, concise communication for the community, while working closely with our Community Health Nurse lead, our Community Health Representative, along with other stakeholders who have come to assist the community.  Beau has remained steady, confident and can be relied on fully, without concern, in his role in assisting with the vaccination of Batchewana First Nation. His impact has been nothing short of amazing.  Beau will be continuing his work with Batchewana First Nation on a part-time basis as he continues his post-secondary journey.

His community is super proud of him for all the hard work that that he has done in the community.
---
General
Algoma Vaccination Support Council (AVSC)
The Algoma Vaccination Support Council (AVSC) was established by The Sault Ste. Marie Chamber of Commerce (SSMCOC) and the STRIVE Young Professionals Group in March 2021. The working group is comprised of local businesses, organizations, and community stakeholders, and has identified the goal of increasing vaccination literacy, information dissemination about local vaccination efforts, and providing support wherever possible, such as food and beverages for vaccination clinic staff and volunteers as well as transportation for those unable to secure transportation to those vaccination clinics.

The Council is facilitated by the Sault Ste. Marie Chamber of Commerce, and is co-chaired by Derek Jackson, chair of the STRIVE Young Professionals Group and Louise Caicco Tett, principal of Health & Safety Professionals Inc. An impressive number of local businesses joined as founding members. These founding members represent thousands of local workforce members in Sault Ste. Marie.

Since launching, the AVSC has supported vaccination efforts at the GFL Memorial Gardens Vaccine Hub and at the Sault Ste. Marie Indian Friendship Centre, as well as clinics in Garden River First Nation, Batchewana First Nation, Thessalon and Thessalon First Nation, Richards Landing and Blind River.

The AVSC supports hard-working frontline healthcare workers and volunteers by keeping them well fed during their long shifts at vaccine clinics. AVSC volunteers such as Katrina McMeeken of Kemp World Travel, Brenda Stenta of Algoma Steel and Jonathan Coulman of AWIC, coordinate a lunch and snack program for volunteers and workers at vaccine clinics across Algoma. The council has received over $70,000 in contributions from local businesses and private individuals. When the AVSC provides lunches and snacks to the team members and volunteers at area clinics, it sources everything from area restaurants, delis, and caterers. The AVSC injects their donations back into the community by placing orders at and supporting, many local foods service businesses and restaurants. Those businesses then reinvest locally, sourcing much of their inventory and supply, as well as paying staff.

As well, in a joint effort with the Sault Ste. Marie Chamber of Commerce, the AVSC distributes Rapid Antigen Tests to local small businesses for free. This program keeps workplaces safe by helping prevent covid-19 outbreaks at businesses. To date, 55,000 tests have been distributed for free to small businesses with less than 150 employees.
Dr. Janet McLeod
As a retired doctor, she has volunteered her expertise and time advocating for the most vulnerable in our area.

After retiring, Dr. McLeod accepted a lead role in the development of a Rural Health Hub model inclusive of the communities from Spanish to Echo Bay. Dr. McLeod did extensive community engagement to learn about how the current health care system was viewed by people living in these communities. With a population health lens many opportunities for improvement were identified. Transportation to access medical services for seniors and those living in poverty was identified as a priority area to address. Dr. McLeod took a leadership role working with the Dr. Trefry Centre, North Shore Health Network Community Support Service, and Algoma Manor to develop a business case that was approved and funded.

The Rural Health Team model has transitioned into the implementation of the new Ontario Health Team model. Dr. McLeod has taken a leadership role in ensuring that the needs of rural health are recognized in the development of the model for Algoma. The work focuses on integration of care. During the pandemic, Dr. McLeod has used her knowledge and expertise as a rural health care physician and a health care sector champion to secure funding for a new In Home Service program for frail seniors living at risk on St. Joseph Island and surrounding area. 

Dr. McLeod has volunteered her expertise and time advocating for the most vulnerable in our area to ensure they have access to COVID vaccines, close to home, provided in an accessible and comfortable location.
Kathy Ingram & Melissa Brown
When the pandemic started, Kathy along with her grand daughter Melissa decided to make homemade masks, sell them and donate the profits to different charities throughout the city. They donated $5,000 to Arch, $2,000 to St Vincent's, $1,000 to the Soup Kitchen, $1,000 to the Humane Society, $600 to Breton House. They also donated masks to Women in Crisis and to some of the schools in the community. They not only kept people safe in the community by making and selling masks, they also helped out those in need.
North Shore Health Network (Medical Transportation & Meals on Wheels)
The North Shore Health Network's Medical Transportation and Meals on Wheels Volunteers have played a vital role in keeping our communities healthy during the COVID-19 Pandemic. Together, dedicated volunteers clocked in nearly 4,000 hours of travelling to essential medical appointments and delivered over 3,500 meals to vulnerable clients in 2021. As the Pandemic evolved and Personal Protective Equipment and policies changed, the Volunteers adapted and supported their clients in maintaining their best health. The NSHN thanks the dedicated Volunteers for their commitment to making our communities a healthier place.
Client Testimonies
"The (Medical Transportation) volunteers are truly amazing people to do what they do, giving so much of their own time for me. I can't drive and have no one to take me to my chemo treatments and specialist appointments; I don't know what I would do without the volunteers and the medical driving program especially living in such a small town. I'm so thankful for their kindness and generosity, they are always so helpful and caring, they even get me a wheelchair when I'm not feeling well which is a lot lately. And even with all the PPE we have to wear now because of the COVID everyone is still in a good happy mood and it makes me look forward to the trip, even though it's for treatment. I always feel safe and comfortable, the volunteers really make my day better and I appreciate each one of them!"


 "We have outstanding volunteers in our community it is so nice to see. I am grateful that they are kind enough to deliver my meals 3 times a week. If I wasn't getting these meals delivered I'd be in some trouble because of being in a wheelchair I don't get out much and I'm too scared to cook because I can't reach things in the kitchen properly, it's a safety hazard for me so I really appreciate them taking time out of their day to deliver meals for people like me!"
Northern Lights Ford
Since the beginning of the pandemic in March of 2020, Northern Lights Ford has provided assistance to the health care sector and food bank each year. PPE was provided to the Lady Dunn Health Centre and Chapleau General Hospital when there was an urgent call for face shields to protect the health care staff.

Strong partnerships created with the staff from Lady Dunn Health Centre and Algoma Public Health saw donations of feminine hygiene products while non-perishable food items were donated from staff and students at St. Augustine French Immersion, Ecole Saint Joseph, Sir James Dunn, and Michipicoten High School. Each year, 2 F-150 truckloads has been dropped off at the food bank.

2021 saw a record year for the foundation as the Giving Tuesday 24 hour donations with a grand total of $11,455.00.

Youth (Age 30 Years & Under)
Bailey Mitchell
Bailey has the necessary drive to take action and help others. Prior to the pandemic she and her classmates visited Golden Birches Terrace in Blind River to engage with the long-term care residents through crafts and games. When the pandemic closed the doors to outsiders, she and her friend Katelyn decided to write a personalized, handwritten letter to each resident assuring them that they were loved and not forgotten. In the fall of 2020, Bailey retained more students to help write personal cards and letters to celebrate the seasons and special dates like Christmas and Easter. Bailey herself has described this as her passion project.

Now in her 12th year of high school, she has a team of more than 30 students who assist (more than half the school population). In an effort to make this past Christmas extra special for the residents, she solicited help from the shop and art teachers to help create tiny wood and paper trees for each resident to accompany their original designed and personalized Christmas cards. Bailey's desire to support the seniors in her community is rooted in the strong relationship and respect that she has for her own grandparents
Harris Ali
He has volunteered in previous APH lead COVID Vaccination clinics at Sault Community Career Centre for New Immigrants & Refugees. He has helped many refugees families to get a COVID Vaccination. He had also volunteered at the Marconi Club & Anishinaabe First Nations during Christmas time in cooking and distributing free Christmas, New Year meals and gifts to many refugees and their families in Sault Ste. Marie during the COVID lockdown. 
Algoma University Student Union (AUSU)
The Algoma University Students' Union Food Pantry is a collectively-run student service that recognizes the pressing and often hidden causes and consequences of student hunger and food security. With the steady increase in the cost of living and the challenges around finding work, especially during the pandemic, many students in post-secondary institutions are increasingly facing higher food insecurity issues. As a result of the COVID-19 pandemic, the Food Pantry has increased significantly to meet the demands of students for emergency food services and address food insecurity issues on campus and off. In addition to meeting immediate needs, the Food Pantry works to address systemic issues around food access by taking an intersectional and holistic approach to operations, consultation, and engagement.
When on-campus operations were halted, the Food Pantry team quickly mobilized resources to create a creative and safe way for students to access the pantry via online booking. As quickly as the pandemic changes, so too does the Food Pantry, always prepared to meet the needs of those who truly depend on their services.

The Pantry currently serves 60-80 students a week. In order to keep up with the growing demand since COVID, AUSU has had to be creative with appointment slots to make sure that they can serve as many students as possible. In addition to offering curbside pick-up, gift cards were mailed during periods when the Pantry may be closed or not be able to offer as many hours as usual. To accommodate more pressure on the Pantry services, AUSU has taken on two CESD placement students that are running research, community engagement, and fundraising projects.

Working with the community has been a key component of AUSU's success, and a prime example of this would be the most recent Trick or Treat event that took place in October of 2021. AUSU planned a COVID-friendly public health-conscious event that focused on giving back to the community and bolstering positive mental health for children and families. Community donations filled the pantry, while AUSU gave out over 5000 bags of candy and collected over 150 coats for Coats for Kids. These collaborative efforts bring positivity to Sault Ste. Marie, while focusing on health and safety.

The Food Pantry also partners with local businesses and volunteer groups to ensure that food is not wasted and that other groups in need within our community receive the food they so desperately require. In the summer months, the People's Garden grows fresh produce to donate to the pantry, right on the AU campus.

This group of genuinely kind, dedicated individuals truly deserve to be recognized for their significant contributions to the public health of Algoma University and Sault Ste. Marie.
Kyle Karalash
Through his work at AFS and his private practice Kyle is a leader in our community for mental awareness. He created an LGBTQ2+ support group to keep youth connected.