Algoma Public Health
Ticks
Learn where blacklegged ticks live, how to avoid bites, and the process for submitting a tick locally.
Lyme disease is a potentially serious infection that you can get if you're bitten by an infected blacklegged tick (also called a deer tick).


Not all blacklegged ticks carry the bacteria that causes Lyme disease, and not everyone who is bitten by an infected tick will develop signs and symptoms of Lyme disease.

ABOUT
What is a blacklegged tick?
Where do blacklegged ticks live?
How to avoid getting a tick bite
How-to submit a tick removed from a human or pet
All ticks can be brought to Algoma Public Health (APH) for identification. We submit suspect blacklegged ticks found on humans to Public Health Ontario Laboratory (PHOL) for species identification. The PHOL will not accept ticks found on pets or in the environment such as floors or furniture; however, all ticks submitted to APH are used as part of our surveillance program.


Instructions for submitting a tick to APH:
Put the tick in a secure container.
Bring the tick to your local APH office for identification. If the tick cannot be brought to an office within one week of removal, the tick may be placed in a freezer until drop off.
Complete a Tick Submission Form at your local APH office, or complete form beforehand.
Etick
Free online tick identification services are also available at etick.ca.  You can submit photographs of a tick that was removed from animals or humans and an expert will identify it usually within 24 hours.  They will then contact you via email with the results and health-related tips and resources for humans and pets that may have been exposed to the bite of that tick species. Also, after identification, a dot is added to a public map where the tick was most likely picked up from.
Tick Surveillance Program
APH's tick surveillance program monitors the types and location of ticks in Algoma and is used to assess the risk of acquiring Lyme disease or other tick related illnesses. It consists of both passive surveillance and active surveillance:

Passive surveillance: identifying ticks brought to us by members of the public.


Active surveillance: public health professionals collect ticks from their natural habitat. APH uses the tick dragging method which consists of dragging a white flannel cloth over and around vegetation where ticks may be present. APH conducts tick dragging in the spring and fall when blacklegged ticks are most active. Dragging locations are selected based on suitable blacklegged tick habitat (e.g., wooded or brushy areas) or a previous confirmed finding of a blacklegged tick. Active surveillance allows us to identify areas where individuals may be at an increased risk of coming into contact with a blacklegged tick; however, they may still be present in very low numbers at a site where none were found by dragging efforts.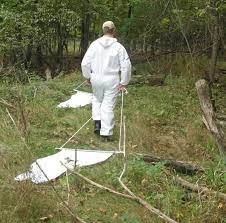 Ontario Agency for Health Protection and Promotion (Public Health Ontario). Tick dragging: standard operating procedure. Toronto, ON: Queen's Printer for Ontario; 2015.
As of September, 2021, the National Microbiology Laboratory (NML) no longer tests blacklegged ticks collected through passive surveillance for Lyme disease or other tick-related bacteria or viruses. This is a change from the previous practice, where all blacklegged ticks found on humans were submitted for testing.  However, APH will continue to submit blacklegged ticks found through active surveillance to the NML to be tested for Lyme disease and other tick related illnesses. 


If you are concerned about a tick bite, see your health-care provider.
If you are concerned about a tick bite to your pet, consult with your veterinarian.
For more information, refer to the Ontario Lyme Disease Map 2022 Estimated Risk Area which provides a provincial picture of where there are known blacklegged tick populations and where people have an increased risk of coming into contact with ticks that may be infected with Lyme disease.  APH is not an identified risk area for Lyme disease.  However, despite these estimated risk areas, it is important to note that blacklegged ticks feed on and are transported by migratory birds, meaning there is a possibility of encountering an infective blacklegged tick almost anywhere in Ontario.
Tick Dragging Results (By Year)