Algoma Public Health
Safe Return to School
This is an unprecedented time and the decision to send your children to school is a difficult one given the many variables and the uncertainty about the future. Each family should assess their own individual situation. Key factors in this decision include:  
your child's health condition
close contacts of your child, or other family members
your family's ability to find alternate childcare
resources to assist in providing home schooling
developmental needs that would require in-class learning with a trained professional.  
There is no right answer for everyone; this decision is one that must be made by each individual family. Individuals will have different risk tolerances in a group environment and it is important to make everyone feel safe and included
The Delta variant is now the dominant strain in Ontario.  Emerging data indicate that the Delta variant has increased transmissibility and increased severity.  Therefore, it is important to consider the impact of the Delta variant and related considerations for the school community going into Fall.  Controlling transmission in schools is more important than ever as children under the age of 12 cannot be vaccinated and because of the Delta variant, risks still remain.
As we exit the Roadmap to Re-Opening Ontario and restrictions are lifted on school related activities such as sports, music, assemblies and clubs, it is important to still mitigate risks of COVID-19 when possible. Despite an activity being legally permitted, schools and school boards can always develop a policy to incorporate harm reduction strategies to reduce the risk of COVID-19 transmission or prohibit an activity until it is safer to practice
Algoma Public Health is working with local school boards to implement provincial standards and guidance to support the reopening of schools.  
Algoma Public Health's Role  
Help prevent illness and outbreaks in schools by supporting school boards' reopening plans and providing public health guidance on how to best implement provincial standards and recommendations. 
Support knowledge exchange among school staff, parents, children, and other members of the school community, by sharing concerns, liaising with local, regional, and provincial partners, and providing credible information and evidence-based guidance.
Provide infection prevention and control expertise and guidance to schools for both in-school and transportation settings.
Respond rapidly to manage COVID-19 cases and outbreaks and conduct tracing, in close partnership and communication with the school community
Conduct public health surveillance by monitoring indicators such as school absenteeism
Provide ongoing support with a team of Public Health Nurses who can assist in responding to school specific inquiries
Provide age-appropriate resources on COVID-19, such as educational posters, social media preventative messaging
School Board's Role   
Develop and implement reopening plans following guidelines and recommendations from the Ministry of Health, Ministry of Education and Algoma Public Health (APH).
Communicate with the school community about COVID-19 prevention measures and how cases and outbreaks will be handled, in collaboration with APH
Support APH, and other stakeholders as appropriate, with the investigation of cases, contacts, and outbreaks.
Ensure accurate records of staff and students' attendance, as well up-to-date contact information for staff and students that can be accessed in a timely manner for investigations and communications.
Facilitate training of school staff with respect to outbreak prevention and control measures and the use of personal protective equipment (PPE). 
---
Basics for Reducing Risk in Schools
Maintain a distance of 2m from those outside your household, try to maintain as much distance as possible

Self-screening of students and staff (and confirmation of self-screening when recommended) for symptoms and exposures of COVID-19

Exclusion policies, such as self monitoring for symptoms and staying home when sick

Establish a hierarchy of controls within the school setting and school activity

Practice good hand hygiene and respiratory etiquette.  Provide a supportive environment for such practices (e.g. availability of alcohol-based hand sanitizer, tissues, no touch waste bins)

Use of PPE (medical mask and eye protection) for staff if within 2m of unmasked students in an indoor setting

Masking of students when indoors for source control

Immunization is the single most effective preventive intervention, and its widespread uptake in eligible children and staff will dramatically reduce infection rates even among unvaccinated children. 
---
Reopening of Elementary Schools
Elementary schools will reopen with conventional in-person delivery of learning, with enhanced health and safety protocols, province-wide. Classes will stay together and with one teacher, where possible. Students may use common spaces (i.e. libraries). Students can interact outside with distancing encouraged or inside with distancing and masking. Specialized education staff and teachers, such as French teachers, education support staff (for example, education assistants) are permitted to go into classrooms, and multiple schools to provide the full breadth of programming for students.
Reopening of Secondary Schools
For the fall semester, students will have a timetable with no more than two courses at a time in order to preserve the option of reverting to more restrictive measures, if needed. Some school boards may implement an alternating week or "modified semester" model (Week 1: Course A/Course B, Week 2: Course C/Course D), with support from Algoma Public Health.
Cafeteria Use
Students may eat together:


outdoors, without distancing
indoors, with a minimum distance of two metres
Each student is encouraged to bring their own drink bottle that is labeled, kept with them during the day and not shared. Use of shared microwaves/kitchen space is permitted.
Food Programs
Nutrition/third party food programs and non-instructional food events (such as a pizza day) are permitted to operate, provided that food handlers use adequate food handling and safety practices. 
Every morning before leaving the house complete the COVID-19 Ontario school screening and follow the recommendations provided at the end of the screener. If your child has COVID-19 symptoms, regardless of their vaccination status, they must isolate and not attend school until:
They receive a negative COVID-19 test result
They receive an alternative diagnosis by a health care professional; or
It has been 10 days since their symptom onset and they are feeling better 
If your child has a sore throat, runny nose, stuffy nose, abdominal pain, headache, lack of appetite or any other sign or symptom of illness not listed on the COVID-19 screening tool, do not attend school or child care and stay home until symptoms improve for at least 24 hours. 
If symptoms worsen, or your child has more than one symptom, and/or are unusual for your child consider COVID-19 testing or follow-up with your health care provider. COVID-19 testing is encouraged for anyone with new or worsening symptoms. 
If your child passes the screen and has no symptom of any ilness, remind them to wear their mask, stay distanced from others, wash their hands often and tell a staff member if they feel sick at school.
Fill Out Online! 
Ontario COVID-19 School and Child Care Screening Tool
Algoma Public Health's (APH) goal is to prevent further transmission of COVID-19 and to keep children and school staff safe. If someone tests positive for COVID-19 in a school, APH will work in collaboration with the school to reduce the risk of COVID-19 by implementing public health measures. 
Learn more about management of a confirmed diagnosis of COVID-19 in the school community  
Here's a checklist for parents and guardians to utilize before schools starts: 
Go get your child their COVID-19 vaccine! Check out no-appointment necessary clinics near you. 
Complete a School and Child Care Screening Tool
Have your child stay at home when they are sick, even when symptoms are mild. Staying home helps prevent spreading to others.
Reinforce that personal belongings and food are not to be shared with students and staff.
Encourage  'no touch' greetings with friends and teachers while at school. 
Teach proper cough and sneeze etiquette
Educate your child to not touching your face. Germs and easily spread from our hands to our mask or face.
Send them with their own water bottle from home to stay hydrated throughout the day.
Reinforce the importance of physical distancing
Make sure your child's immunizations are all up to date. 
If we all take precautions at home and in the community, we have fewer opportunities for the virus to be present in our schools. Here are some important things we need to do to reduce the transmission and take care of our health. 
Students in Grades 1 to 12 are required to wear properly fitted non-medical or cloth masks indoors in school, including in hallways and during classes, as well as on school vehicles. Masks may be temporarily removed indoors for the following activities, with a minimum distance of two metres to:
engage in low-contact physical activity
consume food or drink 
Students are not required to wear masks outdoors, but distancing should be encouraged as much as possible.
Students in kindergarten are encouraged but not required to wear non-medical or cloth masks in indoor spaces, as well as on school vehicles.
Exception(s):


Students with sensory or breathing difficulties may be exempted by the school principal, guided by school board policies.
Additional Resources:


Hand Hygiene and Cough Etiquette
Hand hygiene should be conducted by anyone entering the school and incorporated into the daily schedule at regular intervals during the day, above and beyond what is usually recommended (for example, before eating food, after using the washroom).
Staff and students should have the supplies they need to conduct appropriate hand hygiene and respiratory etiquette and these supplies should be easily accessible.
Additional Resources: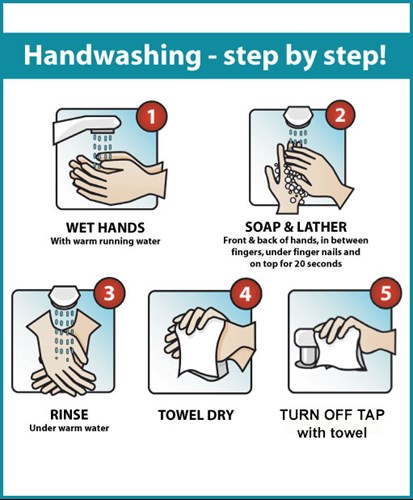 Physical Distancing  & Congregating
Physical distancing is a key strategy that can be used for limiting the transmission of COVID-19, especially in environments where it cannot be maintained. Physical distancing measures are being supplemented with other public health measures, such as self-screening, hand hygiene, enhanced cleaning and masking. Periods of student movement should will be staggered, if possible, to limit student congregation in the hallways.  
Students do not need to stay within their cohort during recess and breaks outdoors, but distancing should be encouraged as much as possible. Shared materials outdoors are permitted, with appropriate hand hygiene and respiratory etiquette.
School assemblies or other student/school gatherings are permitted and should follow the relevant provincial requirements under the Reopening Ontario Act. This can include following provincial capacity limits and includes allowance for in-school student to student peer support programs.
Capacity
School vehicles can operate at full capacity. Vehicles for elementary students should reduce capacity where possible. Where school vehicles are able to operate at less than full capacity, students should be seated in a manner that maximizes physical distancing. Windows should be opened when feasible to increase ventilation.
Masks are Required
The use of non-medical masks for students in grades 1 to 12 is required on school vehicles. Students in kindergarten are encouraged to wear masks on student transportation. Exceptions should be made for students with medical conditions or special needs that prevent masking.
Assigned Seats
Students who live in the same household or are in the same classroom cohort should be seated together where possible.
Cleaning
School vehicles should follow an enhanced cleaning protocol of disinfecting high-touch surfaces (for example, handrails, seatbacks) at least twice daily.
Any visitors to a school are required to self screen and to wear a facemask while on school premises. A  mask will be provided by the school if needed. In addition to the requirement for visitors to perform daily self-screening is required prior to or upon arrival at school. 
Vaccination is an important tool to help stop the spread of COVID-19 and allow students, families, and staff to safely resume normal activities. Vaccination rates may provide opportunities to reduce measures over time.
To help support a safer return to school, the province has extended eligibility to the Pfizer vaccine to children born in 2009.  Starting August 18, 2021, all children turning 12 years old before the end of 2021 will be able to receive their first dose of COVID-19.
The vaccine is available at pop-up clinics, pharmacies, and primary care providers throughout Algoma.  Find a clinic near you.
Additional Resources:

In elementary and secondary health and physical education courses, the use of gymnasiums, swimming pools, change rooms, weight rooms, indoor physical education equipment and shared outdoor equipment are permitted with distancing. Low contact activities are permitted indoors. Masking is encouraged but not required indoors for low-contact physical activities if a minimum distance of two metres can be maintained.
Sports and Extracurricular Activities
Inter-school sport activities
High-contact activities are only permitted outdoors. Masking is not required. Individuals from different schools  will be able to interact outdoors. Low contact activities would also be permitted outdoors for inter-school sports, with no masking.


Low contact activities are permitted indoors. Masking is encouraged but not required indoors for low-contact physical activities if a minimum distance of two metres can be maintained between individuals If a minimum distance cannot be maintained masking would then be required.  
Before and after school programs
Schools, child care operators and authorized recreation providers in schools should follow the guidance for before and after school programs and collaborate to ensure that student lists and information are maintained and readily available to be provided to public health for contact tracing purposes.
Have questions or concerns? 
General Email: aphschoolhealth@algomapublichealth.com
Dedicated teacher and administrator line: 705-942-4646 ext 3296
Parents: 705-942-4646 ext. 5404