Algoma Public Health
Support for elementary classrooms
Support for elementary classrooms

>
Support for elementary classrooms
Healthy students are better prepared to learn, and education is a key determinant of health. This makes schools an ideal setting for children and youth to learn and develop healthy habits. The goal of the School Health Team is to work together, alongside school boards and schools to achieve optimal health and wellbeing for school-aged children and youth.

Our School Health Team consists of:
Public Health Nurses
Dental Hygienists and Educators
Registered Practical Nurses
Registered Dietitian
Youth Engagement Coordinator
Clerical
Ministry of Education – Foundations for a Healthy School

A 'Healthy School' is a school that embraces the concept of a healthy school environment and promotes and supports health for students through words and actions.

As a School Health Team, we are prepared to:
Collaborate with students, parents, educators and community partners to promote the health and wellbeing of school-aged children and youth
Provide health education supports and resources 
Support the implementation of healthy school policies
Promote student leadership and engagement while empowering students to develop healthy habits and resiliency
Provide clinical services such as immunization and dental screening within applicable grades
A Healthy School Committee

A healthy school approach is a framework to create a healthy school environment and improve student learning. Establishing a healthy school committee supports improvements in students' educational outcomes and promotes resiliency by addressing school health in a planned and holistic way. We can help you establish a healthy school committee that is inclusive of educators, parents' students and community stakeholders. Contact your school health nurse for more information.

Can't find what you're looking for?

This collection of resources is meant to be a quick guide to some of the most popular resources that support the Health & Physical Education Curriculum. If you can't find what you're looking for, connect with your public health nurse. They may have or know of other resources that may be helpful to you.

Note: please remember to consult your school and school board policies and procedures.

Public Health Chats

Once you have taught a section of the H&PE Curriculum, you may be interested in arranging a 'Public Health Chat' with your public health nurse and/or another appropriate member of the School Health Team who can visit your classroom to provide a Public Health perspective on the information already taught, and answer any questions the students may have.


Concussions & Injury Prevention
In March of 2018, the Ontario government passed a law known as Rowan's Law; designed to protect amateur athletes and educate parents/guardians, coaches and officials about the dangers of head injuries. Rowan's Law is the first of its kind in Canada and will benefit both athletes and non-athletes.

School Boards must have a concussion policy that includes activity plans for returning to school and returning to physical activity for any student who has suffered a concussion. Rowan's Law is also intended to increase awareness and education around concussions.

Ophea – Concussion Protocol and Implementation Tools

The Ministry of Education's Policy/Program Memorandum No. 158; School Board Policies on Concussion recognizes the Ontario Physical Education Safety Guidelines Concussion Protocol as the minimum standard for school boards, meaning the standards outlined in these Guidelines cannot be lowered. This 2018 Concussion Protocol was developed in partnership with Parachute Canada and aligns with the Berlin Consensus Statement on Concussion in Sport and the Canadian Guideline on Concussion in Sport.

safety.ophea.net


TD Think First for Kids

A school-based curriculum program for grades K to 8. This program uses lessons and fun activities to engage students in learning how to 'think first' before participating in favourite activities to prevent brain and spinal cord injuries, and empower them to make safe decisions and navigate risks in their daily lives.

www.parachutecanada.org

Brain Waves

Trained volunteers with Safe Communities Sault Ste. Marie, bring this free, informative, hands-on, interactive and fun half-day neuroscience presentation into local classrooms. Students in grades 4 to 6 learn about different parts of the brain, basic neuroscience vocabulary, and how and why it's important to protect their brain and spinal cord.

sault.safecommunities.parachutecanada.org

Helpful Websites: 
Infectious Disease & Hand Hygiene
Algoma Public Health works to maintain a healthy community through the prevention and control of communicable diseases. This is done through the surveillance and investigation of infectious diseases, along with public education. For more information on all infectious diseases, such as routine precautions or recommendations for 'time off' school/daycare, contact your public health nurse and/or visit Algoma Public Health's website. 
Handwashing Lesson Plans
These resources are organized into Kindergarten - Grade 2, Grade 3-4 and Grade 5-8, and contain background information, lesson plans, activity sheets and extension activities to help you educate your students on the importance of handwashing and how to wash hands properly. 
Glitter Bug


Available for loan through Algoma Public Health, the Glitter Bug is a hands-on tool that utilizes glow-in-the-dark cream/powder and a black light to show students how easily germs can appear on their hands and how important proper handwashing is to successfully remove them. 
Helpful Websites:
Immunization
All children attending school between ages 4 to 17 need to be immunized according to Ontario's Immunization Schedule. Immunization protects children from many serious diseases that are easily spread in schools. Under the Immunization of School Pupils Act, children need to have proof of immunization against diphtheria, tetanus, polio, measles, mumps, rubella, meningococcal disease, whooping cough, and – for children born in 2010 or later – chickenpox to attend school. Children who are not fully immunized may not be allowed to attend school.

Nurses from Algoma Public Health hold clinics at your school to provide immunizations to grade 7 students. For answers to some frequently asked questions about this program and the vaccines that are offered please see our video series.

Algoma Public Health Videos - Grade 7 Immunizations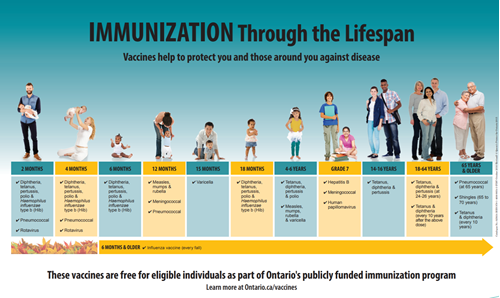 Healthy Eating
Children who are well-nourished are more likely to get the energy and essential nutrients they need to grow, be active, stay healthy and do well at school. They are more alert, better able to concentrate and ready to learn. Healthy habits developed in childhood will help children grow into healthy adults. 
'Do No Harm' – Classroom Education

Sharing accurate and evidence-based healthy eating information is certainly important, but so is ensuring that the delivery of this information to students follows a 'do no harm' approach. Promote healthy eating in a positive way (e.g., classifying foods as 'everyday' and 'sometimes' instead of 'good' and 'bad'). Ensure students of all shapes, sizes and appearances are equally valued and respected, and encourage students to value abilities and characteristics versus weights and shapes. Be aware that teaching students about eating disorders may be harmful as some students may glamourize these disturbed behaviours. Instead, focus on self-acceptance and the health benefits of enjoying nutritious foods and being active, and be a healthy role model. Avoid programs and/or projects that involve weighing students or are weight-focused. 
'Do No Harm' – Student Lunches
While it is great to educate families on healthy lunches and role model healthy eating, what is packed in lunches from home is a family decision and should be free of scrutiny. Drawing attention to an 'unhealthy' choice can isolate children from their peers and damage their self-esteem; causing them to feel shame. In addition, allow students (even in JK/SK) to make their own decisions about what and when to eat the foods and beverages packed in their lunches. There are no benefits to having children eat certain foods before others. Children have their own internal hunger and satiety cues that guide their choices, and actually eat better when allowed to independently choose from options available. 
BrightBites 

Creating school environments that support healthy eating through words and actions can help students create lifelong healthy habits, and improve well-being. BrightBites is a free online program that supports schools in earning badges and changing the school nutrition environment, one bite at a time.

www.Brightbites.ca
Sip Smart!™ Ontario: This comprehensive resource is a badge within BrightBites that contains practical information and tools to help schools educate the school community on sugary drinks and making healthy drink choices. In addition to curriculum-based lesson plans for grades 3-7, this resource offers background information, assessment tools, PA announcements, parent handouts and more!
Paint Your Plate: This comprehensive resource is a badge within BrightBites that contains practical information and tools to help schools increase vegetable and fruit consumption at school and at home. In addition to curriculum-based lesson plans for grades K-8, this resource offers background information, assessment tools, PA announcements, parent handouts and more!
Freggie™

The Freggie™ mascot is available to all elementary schools across Algoma to further promote healthy eating habits and generate excitement about vegetables and fruit. If food is being served at your event, please ensure that vegetables and fruit are included as an option to support Freggie's™ messages. We encourage schools to teach students the Freggie™ theme song before Freggie™ visits your school so students can sing-along and welcome Freggie™ when he arrives. Contact your public health nurse for more information. The Freggie™ Children's Program provides additional supports for schools, such as lesson plans and an interactive online website for students.

www.Freggietales.ca 
You're the Chef

A hands-on cooking program for students in grades 5-8, designed to help develop the skills and confidence needed to prepare healthy and tasty recipes emphasizing vegetables and fruit. This program requires leadership from a trained You're the Chef (YTC) Leader. Algoma Public Health offers training bi-annually (Fall and Spring) for those interested in becoming a trained YTC Leader. Contact your public health nurse for more information.
Snactivity Kit
Available for loan, the Snactivity Kits is a collection of items to help bring healthy eating lessons to life and keep students interested and inspired. Contents include stuffed vegetable and fruit seedies, vegetable and fruit bean bags, food models, matching cards, food beach ball and more. Contact your public health nurse for more information.
Helpful Websites:
Healthy Sexuality
Sexuality is a sense of who we are and how we feel about ourselves as sexual beings. Healthy sexuality is an important part of a child's overall health and wellbeing. When learning about sexual health it is important to include the social, emotional, spiritual, and physical aspects of sexuality and relationships. 
Healthy Sexuality Kits

Available for loan through Algoma Public Health, these Healthy Sexuality Kits are a collection of resources compiled to help teachers implement the H&PE Curriculum. Please speak to your school public health nurse to request a kit.
Teaching Sexual Health (Alberta Health Services) 
Provides teachers with evidence-based sexual health education background and delivery methods, current lesson plans and activities and comprehensive resources for students in Grades 4-12 (including students with differing abilities).

https://teachingsexualhealth.ca/teachers/
Sex & U (The Society of Obstetricians and Gynaecologists of Canada)
Provides accurate, credible, and up-to-date information and education on topics related to sexual health and reproductive health (Grades 4-12).

www.sexandu.ca
Healthy Dating Relationships
A free guide created by PREVNet, a Canadian network created to promote safe and healthy relationships for children and youth. This resource outlines the key aspects of a healthy relationship and provides students, parents and educators with evidence-based information on online safety.

https://www.prevnet.ca/sites/prevnet.ca/files/fb-dating-safety-v6-digital.pdf
The Sex Information and Education Council of Canada (SIECCAN)
The Sex Information and Education Council of Canada (SIECCAN) is a not-for-profit charitable organization established in 1964 that works with health professionals, educators, community organizations, governments, and corporate partners to promote sexual and reproductive health, SIECCAN's work is overseen by a ten-member Board of Directors.

www.sieccan.org
Teen Health Source

A sexual health information service run for and by youth. Whether teens need information about birth control, sexually transmitted infections, healthy relationships, or puberty, we provide information in a non-judgmental, sex-positive, pro-choice, and inclusive manner.

http://teenhealthsource.com/information/

Kids Help Phone
Canada's only 24/7, national support service. We offer professional counselling, information and referrals and volunteer-led, text-based support to young people in both English and French. Whether by phone, text, mobile app or through our website, you can connect with us whenever you want, however you want. Here are the ways you can reach out to Kids Help Phone now: 1-800-668-6868. This website also provides valuable information about consent, relationships, puberty, birth control, pregnancy.
Sexual Health Information Line: 705-541-7100 or 1-800-726-0398

This confidential phone line provides information about birth control, pregnancy, emergency contraception, sexually transmitted infections (STIs), HIV and access to sexual health services.

Helpful Websites: 
Mental Health & Wellness
When students have positive mental health, they are able to handle problems and challenges more easily, which is called resilience. Ontario's Well-Being Strategy for Education supports the idea that well-being is a positive sense of self, spirit and belonging that students feel when their cognitive, emotional, social and physical needs are being met. Supported through equity and respect for diverse identities and strengths, well-being is fundamental to overall student-success.

Emotional: Understanding how to recognize, manage and cope with emotions.

Physical: Development of the body, impacted by healthy life choices.

Cognitive: Development of skills such as critical thinking, problem solving, creativity and flexibility.

Social: Development of self-awareness, sense of belonging, relationships, collaboration and communication skills.

Think, Feel, Act

Providing constructive supports for resilience helps children learn skills for coping that can contribute to lifelong mental health and well-being. This briefing provides helpful strategies to build children's resilience and well-being.

http://www.edu.gov.on.ca/childcare/brief_3_resilience_en.pdf

Promoting Mental Health: Finding a Shared Language (video)

There is growing discussion about mental health in Ontario and the way we talk about it matters. This video by the CAMH Health Promotion Resource Centre explains the separate but interconnected concepts of mental health and mental illness, as well as what it means to 'promote mental health', in ourselves and in our communities.
Pan-Canadian Joint Consortium for School Health Positive Mental Health Toolkit

A series of online modules designed to promote positive mental health practices and perspectives within the school environment. 

jcshpositivementalhealthtoolkit.com
Ophea – Level Up 

A free online resource that supports educators and program leaders in promoting positive mental health and overall well-being with children and youth. This resource includes easy-to-use, curriculum-based activity cards as well as videos and posters to encourage student engagement. 

ophea.net 

Kids Help Phone: 1-800-668-6868

Canada's only national 24-hour, bilingual and anonymous phone counselling, online counselling and referral service for children and youth. In addition to professional counselling support and a variety of resources to help youth in any moment of need, the website offers a wide range of articles, tools and resources to help young people through challenges or experiences they might face. 

kidshelpphone.ca

School Mental Health – Assist 


A provincial support team designed to help Ontario school boards in promoting student mental health and well-being. This support is provided via leadership and coordination, resources, and implementation coaching support.

smh-assist.ca
Triple P – Positive Parenting Program (Algoma) 

Are families within your school community concerned about their child's behaviours, having problems at mealtime, battles over curfew and everything in between? Triple P provides parents/caregivers tips and strategies to help their family life improve, and to take care of themselves as parents/caregivers.

triplepalgoma.ca
Oral Health
Dental Screening


Dental screenings in elementary schools involve a quick visual assessment of the mouth by a registered dental hygienist and a dental health educator. Results are sent home to inform parents of any concerns. Please note, this program does not replace the importance of visiting the dentist regularly.
Oral Health Education Guides
The Ontario Association of Public Health Dentistry website provides curriculum support, including lesson plans and student activities. All teacher resources can be downloaded free of charge and provides teachers and students with resources to promote good oral health.

The Ontario Association of Public Health Dentistry (click on Oral Health Education Guides) 
Helpful Websites:
Physical Activity & Sedentary Behaviour
The 24-Hour Movement Guidelines for Children and Youth provide optimal health benefits for children and youth (aged 5-17 years). They should achieve high levels of physical activity, low levels of sedentary behaviour, and sufficient sleep each day.

participaction.com
Screen-Free Challenge

Algoma Public Health provides the resources needed to challenge your school community or classroom to go screen-free for a week, and use all that free time to play, read, explore, create, connect or dream.  Contact your public health nurse for more information.

DrumFit
Utilizing stability balls, stands, drumsticks and an ever-changing "Play 'n Go" video curriculum, DrumFit is a non-competitive program that promotes physical literacy and personal fitness for all students. DrumFit equipment can be loaned through Algoma Public Health and Algoma Family Services. 
Playground Stencils 

Algoma Public Health has a variety of playground stencils available for loan. Contact your public health nurse for more information. 
Ophea Daily Physical Activity (DPA) Kits – Primary, Junior and Intermediate 

Available for loan through Algoma Public Health, these kits contain a DVD plus 50 fitness activity cards, to provide many ideas for incorporating DPA into the school day, including suggestions for those with mobility restrictions. Contact your public health nurse for more information. 

Ophea PlaySport
Free, online activity-based resource helps children and youth develop an understanding of skills and strategies associated with physical activity and provide experiences to help with physical and health literacy and skills for healthy active living.

Play sport includes:


A searchable database of downloadable activity cards with step-by-step instructions
Access to animations and/or illustrations for each activity
Linkages within each activity to the Ontario Health and Physical Education (H&PE) Curriculum
Connections within each activity to the Canadian Physical Activity Guidelines
Busy Box 

Algoma Public Health has collated a variety of items available for loan to help encourage daily physical activity, support motor skill development and add an enthusiastic addition to your H&PE lessons; koosh balls, rubber chickens, a parachute, etc. Contact your public health nurse for more information. 
Kids in Motion School Pedometer Loan Program
Algoma Public Health has class sets of pedometers available for loan for grades 4-8 to help encourage students to be physically active. Contact your public health nurse for more information.

Helpful Websites: 
Participaction
Ontario Physical and Health Education Association
Road & Off-Road Safety
Injuries caused by motor vehicles collisions (MVCs) remain a significant public health problem in Canada. Off road vehicles can include all-terrain vehicles, snowmobiles, dirt bikes, motocross bikes, amphibious vehicles, quad bikes and other similar vehicles.

Ontario Road Safety Resource 
Contains downloadable lesson plans covering various topics, including passenger safety, bicycle safety, rollerblading and skateboarding, as well as pedestrian safety, technology and distractions.

www.ontarioroadsafety.ca

Helpful Websites: 
algomapublichealth.com
parachutecanada.org
ontario.ca/atv
mto.gov.on.ca
Substance Use & Harm Reduction
The use of tobacco, vaping, alcohol, cannabis, opioids, and other substances are key public health concerns. Substance use that begins during late childhood and early adolescence can lead to a pattern of behaviours with adverse health and social consequences. 
Ophea – Level Up 
A free online resource that supports educators and program leaders in promoting positive mental health and overall well-being with children and youth. By using a proactive approach to create a supportive environment, this resource addresses healthy living through a variety of sensitive topics related to substance use. It includes easy-to-use, curriculum-based activity cards as well as videos and posters to encourage student engagement and discussion. 

ophea.net

Talking About… Series

The Talking About Series is an educational resource addressing cannabis, tobacco, vaping, and water pipes. The series includes a set of activity guides, one for each topic, to help facilitate critical discussion with young people in a fun and informative manner.

www.lungontario.ca
Pigs Lungs
A demonstration kit for grades 5-8 that contains preserved pig's lungs (one healthy lung and one affected by years of smoking) to show students the anatomy and physiology of a non-smoker's lung and a smoker's lung damaged by cancer and emphysema. This kit is available for loan through Algoma Public Health. Contact your public health nurse for more information.

Mr. Gross Mouth 
A demonstration kit for grades 5-12 that contains a very realistic model of a mouth, and shows students the damage that can be caused by using smokeless tobacco. This kit is available for loan through Algoma Public Health. Contact your public health nurse for more information.

Consequences of Smoking 
A demonstration kit for grades 3-4 to show students the physiology of stroke, lung cancer, heart attack, emphysema and bronchitis, burns, peptic ulcers and bladder cancer. This kit is available for loan through Algoma Public Health. Contact your public health nurse for more information.
Tobacco Prevention Toolkit (Stanford Medicine)


The Tobacco Prevention Toolkit is a free, theory-based and evidence-informed educational website resource created by educators and researchers aimed at preventing middle and high school students' use of cigarettes, cigars/cigarillos, chew, hookah, and electronic cigarettes. This Toolkit contains a set of modules focused on e-cigarettes and vapes and messages on nicotine addiction.

https://med.stanford.edu/tobaccopreventiontoolkit.html

The Academy for Tobacco Prevention


The Academy for Tobacco Prevention is for Grade 4, 5 and 6 classrooms to educate and engage students about the harms of tobacco use and the health benefits of never using tobacco products. It includes four 45 minute grade-specific detailed lesson outlines, interactive presentations, material to encourage class discussion. The fifth lesson is a fun card game where students can build their confidence to recognize and resist negative peer pressure, use positive social skills together to reach a common goal. The card game is available for loan through Algoma Public Health. Note: An Ontario companion document is available as this resource was created in Alberta. Contact your public health nurse for more information

https://academy.albertaquits.ca/about-the-academy
Unfiltered Facts North (formerly known as Algoma Youth Action Alliance Youth Committee:
Unfiltered Facts North is a youth-led health promotion coalition of youth aged 12 – 24 focused on tobacco misuse prevention. There are committees in Sault Ste. Marie, Elliot Lake and Blind River. Youth leaders meet monthly to plan, implement and evaluate campaigns. This is a great opportunity for students who need meaningful opportunities to share their ideas and insights while developing leadership skills. Youth leaders may also be available to help facilitate interactive tobacco prevention activities and discussions in classrooms. Contact your public health nurse for more information.

Talking pot with youth; A Cannabis Communication Guide for Youth Allies 
Using a harm reduction approach, this resource is designed to help those who work with young people to have the right kind of conversations with them about cannabis: conversations that are safe, unbiased, informed and non-judgmental.

www.ccsa.ca

Cannabis Discussion Guide
Cannabis Education Resources has been developed to provide educators and administrators access to evidence-informed information on substance use (specifically cannabis) to help students develop the knowledge and skills needed to make informed decisions to support their health and well-being.

www.ophea.net

Helpful Websites: 

UV Exposure
Exposure to UV radiation from the sun, without adequate protection, or from artificial sources like tanning beds, has significant adverse health outcomes. While there can be benefits of UV exposure, including facilitating vitamin D3 formation, UV radiation from the sun and tanning devices has been classified as a human carcinogen and is a key risk factor for skin cancers in addition to premature skin aging, eye problems, and weakening of the immune system. 
Canadian Cancer Society – SunSense Certification
This program acknowledges and celebrates schools that have created a sun safe environment to protect students and staff from harmful ultraviolet radiation. By using a comprehensive approach that engages parents, staff and students, schools can influence sun safety behaviours and create a sun safe culture within the school community. Schools can register online annually in the Fall.

cancer.ca

Canadian Cancer Society – Teaching Guides 
Free, downloadable, curriculum-based SunSense Teaching Guides for grades 1-3 and 4-6. These Teaching Guides are part of the SunSense Certification Program at the Canadian Cancer Society. cancer.ca SunSense Tent Available for loan through Algoma Public Health, this large tent provides a large shade structure for any of your outdoor events or activities. Contact your public health nurse for more information.
Violence & Bullying
Violence has far-reaching consequences for both mental and physical health, and negative associations with sexual health. It contributes to the risk of suicide, substance use and addiction, depression, anxiety, post-traumatic stress disorder, other psychological harms, chronic diseases, and social impacts (e.g., diminished academic achievement and worker productivity, and the deterioration of families and communities).

Bullying (e.g., physical, verbal, social, cyber) has serious implications for the mental health of children and youth, and if not addressed can lead to fatal outcomes, including suicide. For example, weight-based stigmatization, the most common form of bullying reported by students age 13 to 19, is associated with depression, anxiety, low self-esteem, body dissatisfaction, suicidal ideation, poor academic performance, lower physical activity, maladaptive eating behaviors, and avoidance of health care. 
PALS Program

Playground Activity Leaders in Schools (PALS) is a peer-led playground leadership program that encourages all children to participate in activities regardless of their gender, size or ability. This program is intended to increase physical activity on the playground, decrease conflict and playground bullying, provide leadership opportunities and build developmental assets for students. Contact your public health nurse for more information.
Connect (Ed)

A free online resource addressing internet safety for students in grades 4-6. This resource is intended to help students develop safe and healthy online behaviours, such as netiquette, security, personal privacy and relationships (e.g., recognizing and managing cyberbullying).

ophea.net
CyberCop

A free, online resource, that teaches students in Grades 7 and 8 about the risks and safety issues surrounding the Internet and helps them recognize and respond to these situations.

ophea.net


WITS Program (Walk Away, Ignore, Talk it Out, Seek Help) 


This program, which is available in English or French, brings together schools, families and communities to create environments that support children in elementary school to deal with bullying and peer victimization. There is a program for students in Kindergarten to Grade 3, and a separate one for grades 4-6. The programs contain lesson plans, book lists, and classroom resources and activities.

https://witsprogram.ca/school/
Helpful Websites:

prevnet.ca
ophea.net
sexandu.ca (consent, sexual harassment, on-line safety)
Youth Engagement
Youth Engagement and Development
Youth engagement requires a shift in how we connect with young people. Often our focus is on educating young people to prevent problems and ensuring plans are in place to help those with problems. Although this is important, focusing exclusively on problems is limiting. Instead we need to work with young people to create meaningful opportunities that help to develop their competencies, confidence, character and connections. Involving youth in the identification of priority issues, emerging trends and promoting messaging can help to more effectively achieve desired outcomes.

algomapublichealth.com/YED 
The ABC's for Adults as Allies:
Ask: Be an asker, not a teller.
Boundaries: Develop mutually agreed upon guidelines for the group.
Challenge: Support youth to take leadership of their own learning.
Democracy: Share decision-making.
Engagement: Create opportunities for youth, especially those who do not usually participate.
Algoma Youth Action Alliance (AYAA) 
Encourage grade 7 and 8 students to consider joining the AYAA; a group of youth-led (12-24 years), adult-supported committees in Wawa, Sault Ste. Marie, Blind River and Elliot Lake who work on health promotion. They meet once a month (outside of school hours) to identify health related issues that are important to them and their peers, and then create events and activities to make positive changes. Participation offers valuable experiences and skills to include on future applications/resumes, and is a fun way to earn high school community hours. Contact your public health nurse for more information.
Algoma Youth Engagement Network (AYEN)

Consider joining the AYEN. The AYEN welcomes organizations interested in creating youth engagement opportunities to support young people while strengthening organizations and building healthier communities. Organizations come to the AYEN with different mandates, strengths, challenges and opportunities. Meetings are held monthly at Algoma Public Health. Contact your public health nurse for more information.