Algoma Public Health
Current Status (COVID-19)
Current Status (COVID-19)
Status updates about COVID-19 (novel coronavirus) will be posted as new developments arise.
To protect the identity of individuals, and to comply with privacy law, Algoma Public Health does not provide name or address information for people who test positive for COVID-19.  Where there are important exposures in the community or on flights, Algoma Public Health will provide the times and locations on this webpage. 
Status of cases in the Algoma district
These data sets are preliminary and subject to change, pending further review.
Confirmed positives will be reported as soon as publicly available. 
Tested (1)


23,108

Positive
27
Negative

22,403

Pending (2)


678

Deceased
0
Resolved (3)

27
 

Updated: August 13, 2020 (8:30 a.m.)
(1) That Algoma Public Health is aware of.
(2) Number of people who have been tested but do not have a result yet.
(3) Patient tested positive but is resolved according to current public health criteria. This number includes any persons who are deceased.
Total confirmed cases by area of residence
Algoma Region

Any residents who have tested positive for COVID-19?
Any evidence of local community spread?

Central & East  Algoma

Yes (less than 5)
Yes

Elliot Lake & Area
Yes (less than 5)
Possible/Likely:
evidence of community  spread is present in other areas of Algoma and in neighbouring public health units
North Algoma
No
Possible/Likely:
evidence of community  spread is present in other areas of Algoma and in neighbouring public health units  
 Sault Ste. Marie &  Area
Yes (22)
Yes

  Updated: July 17, 2020 (8:30 p.m.)
Note: The following describes the municipalities and First Nation communities included in each Algoma sub-region.  This is not an exhaustive listing of geographic places within Algoma.


Central & East Algoma includes: Blind River, Bruce Mines, Hilton, Hilton Beach, Huron Shores, Jocelyn, Johnson, Mississauga First Nation, Plummer Additional, St. Joseph, Tarbutt and Tarbutt Additional, The North Shore, Thessalon, Thessalon First Nation
Elliot Lake & Area includes: Elliot Lake, Sagamok Anishnawbek First Nation, Serpent River First Nation, Spanish
North Algoma includes: Dubreuilville, Michipicoten First Nation, Missinabie Cree First Nation, Wawa, White River
Sault Ste. Marie & Area includes: Batchewana First Nation, Garden River First Nation, Laird, Macdonald, Meredith and Aberdeen Additional, Prince, Sault Ste. Marie 
COVID-19 outbreaks
Facility Name
Facility Type
Date outbreak declared
Status
Important exposure information

Extendicare - Maple View 

Long-term care 

May 6, 2020

Outbreak declared over May 22, 2020

 

Individuals with possible close contact exposure at the facility have been notified
Contact Algoma Public Health at 705-759-5404 if you are concerned that you may have been affected.
Weekly cases by episode date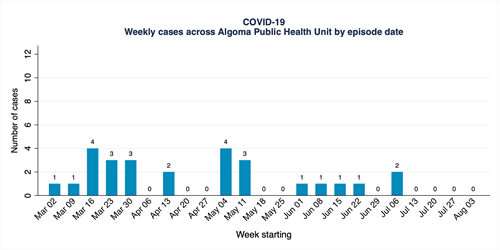 Episode date is intended to approximate symptom onset date.  It is calculated based on the date of symptom onset, specimen collection/test date, or the date reported to public health.
To view epidemiologic trends and case break down by demographic factors such as age and sex, visit Public Health Ontario's COVID-19 Data Tool.  This tool allows you to view COVID-19 data for Ontario overall, as well as for an individual public health unit.


The province of Ontario also publishes a daily epidemiologic summary report, accessible here, which provides provincial and regional data on confirmed cases, demographics and trends of cases since the outbreak began including geography, exposure and severity.