Algoma Public Health
Hepatitis C in Algoma
---
Bulletin: Hepatitis C in Algoma (PDF file)

Hepatitis C is a viral disease that affects the liver. Left untreated, it can result in liver damage or cancer. 
Hepatitis C is found in an infected person's blood and is spread through blood or body fluids. The virus is spread by sharing needles, personal care items, piercing equipment or having unprotected sex. 
Between 2012 and 2016 the rate of new cases of hepatitis C in Algoma has increased 7.2%, compared to a decrease in the province of 4.0%.
During 2016, new cases of hepatitis C were most common in 20-29 year olds in Algoma. The rate of new cases in this age group was 3.8 times higher in Algoma than in the province. Algoma also had a higher rate of new cases of hepatitis C in 0-19, 30-39 and 40-49 year olds.
---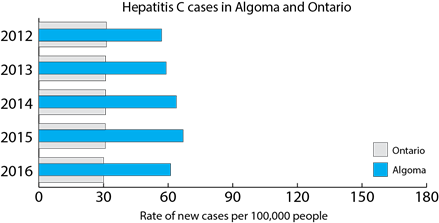 ---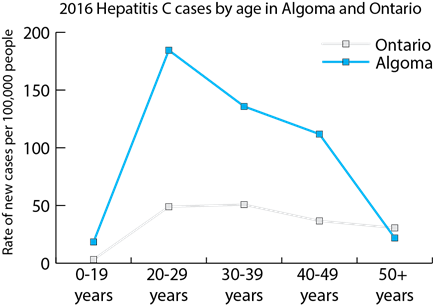 How to reduce your risk:
Practice safe sex

Do not share personal care items

Do not share needles

Check the inspection reports at spas, salons and parlours
To reduce the spread of hepatitis C, Algoma Public Health is committed to:


Ensure all people diagnosed with hepatitis C receive education about treatment

Raise public awareness, especially among youth and young adults

Encourage safe practices to prevent the spread of hepatitis 
---
Data source: 1Ontario Ministry of Health and Long-Term Care, integrated Public Health Information System (iPHIS) database; Ontario Population Estimates and Projections, Ontario Ministry of Health and Long-Term Care, IntelliHEALTH ONTARIO. Accessed January 10 2017.