Algoma Public Health
COVID-19 Immunization Tracker
COVID-19 Immunization Tracker
Information has been gathered from COVax-Ontario and Algoma partner-led vaccination clinics. It represents a snapshot at the time of extraction and is subject to change over time.
Our immunization tracker provides regular up-to-date information on Algoma's COVID-19 vaccination rollout. 
Learn more about the COVID-19 vaccine and the clinics currently being offered in Algoma.

---
Immunization Uptake and Coverage in Algoma
Last Updated: 3:15 PM, September 17, 2021


This page will be updated Monday, Wednesday & Friday of each week
Doses administered to Algoma residents
| | |
| --- | --- |
| Total doses administered* | 168,936 |
| # of people who are fully vaccinated | 80,959 |
| # of people who have received at least 1 dose | 87,638 |
*now includes 3rd doses given to Algoma residents
| | |
| --- | --- |
| % of total population that has received at least one dose | 76.6% |
| % of total population that are fully vaccinated (received two doses) | 70.7% |
| % of eligible population (12+) that have received at least one dose* | 85.9% |
| % of eligible population (12+) that are fully vaccinated (received two doses)* | 79.4% |
| % of youth population (12-17) that have received at least one dose* | 75.7% |
| % of adult population (18+) that have received at least one dose | 86.7% |
| % of adult population (18+) that have are fully vaccinated (received two doses) | 80.6% |
Note: based on 2020 projected population
*Current eligibility includes 12+ & anyone born in 2009, the population denominator has been adjusted as of August 23rd to include eligible 11 year olds
Vaccinations by Age Group in Algoma
Based on 2020 projected population, this graph is updated on Wednesdays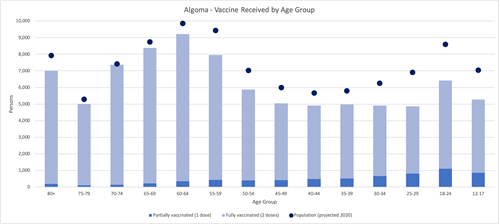 Last Updated: September 15, 2021
The counts and coverage presented on this page include:  

Algoma residents who have received a COVID-19 vaccine, regardless of the location of vaccine administration

People without public health unit information in their record, if their address is in Algoma 

People without an address or public health unit information in their record, if their vaccine was administered at an Algoma immunization clinic

The data presented is preliminary and subject to change, pending further review
For further information visit:  
Immunization Data: Ontario Ministry of Health and Long-Term Care, COVaxON. Extracted daily Monday-Friday

Population Estimates [2020], Ontario Ministry of Health and Long-Term Care, IntelliHEALTH Ontario, Date Extracted: [Jan/19/2021]